Archive for the 'shoes and boots' Category
Kates Clothing has a pile of new stuff in and these bad ass New Rock boots really caught my eye!  Fall is coming and that means sexy boots! These are hot!
New Rock Lizard Pattern Ladies Boots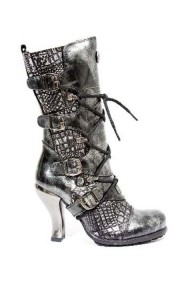 And of course these are my new favorite (until something else is):
New Rock Ladies Cowboy Boots Check out the heel on these things!

The Dolce Vita Taiz Wedge is awesome.  That is all.  Ok, that's not all.  I LOVE THEM.  Now I'm done.
Swim here, swim there, everyone is gearing up to sell swim suits and beach wear.  We've got plenty of time so I'm going to hold off on my bikini and one piece picks for a while.  It's still March and why rush it when Nasty Gal has stuff like this:
Jeffrey Campbell Halo Teardrop Boot