Archive for the 'Bras' Category
I love Vive Maria.  I've said it before.  I can't find it in the states, but I can drool over what I can find at Red Rabbit Fashion.  These made my OMG list the second I saw them.
Vive Maria Mistress Satin & Lace Set – The cheeky panties take this set from sexy to amazing.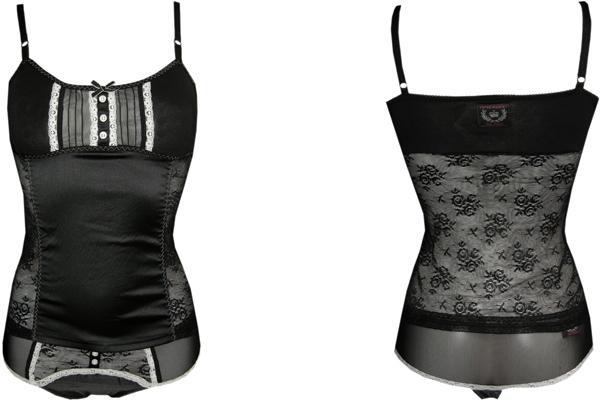 Vive Maria Lala´s Boudoir Set – Comes with both the bikini and the thong! (I had to use the Google translator to figure that one out)
Vive Maria Lala's Boudoir Bra and Lala's Boudoir Panty – Sold separately, but I couldn't  just get one… No way.
The new Vaudeville Vamps line from Lip Service is hot!  The skimpy under-things are sexy and perfect for your burlesque show, in your bedroom or as an accent to a larger outfit.  The other things that really caught my eye were the Vaudeville Vamps Dress, the Lace Skirt and the Jacket.  Any or all in combination are hot and the come in both sassy red and black or retro black and white.
Vaudeville Vamp Skirt
I got my This Just In email from Urban Outfitters.  It had lots of goodies inside, but I loved the byCorpus Fencenet Bra and the Sparkle & Fade Easy Slip the most.
Sparkle & Fade Easy Slip: Is it a dress?  If you have the body for it.  Is it a slip?  Always!  And it looks so comfortable!
The byCorpus Fencenet Bra is waiting for a semi-sheer tank top and a sport coat or a barely-there little black dress!