Archive for August, 2010
It's no secret that I'm a sucker for Urban Outfitters' taste in dresses.  I rarely see one I don't love, but they have especially excellent taste in the Little Black Dress.  They've had the Motel Lesley Dress dress for a while and I drool a little every time I see it.  For under $100, it's got more style, class and sex appeal than dresses at twice the price.  I love this dress.
Kates Clothing has a pile of new stuff in and these bad ass New Rock boots really caught my eye!  Fall is coming and that means sexy boots! These are hot!
New Rock Lizard Pattern Ladies Boots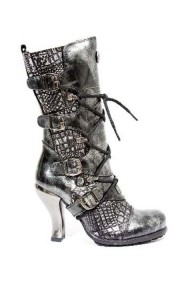 And of course these are my new favorite (until something else is):
New Rock Ladies Cowboy Boots Check out the heel on these things!