New From 19 Moons
I said previously that I'm not a fan of gluing a few sprockets or parts to something else and calling it Steampunk.  However, on some occasions where the parts fit the style and look, it works well.  Here are three nice examples from 19 Moons.
Time Traveler Cuff Bracelet: WWII brass wings and watch movement on an art deco brass cuff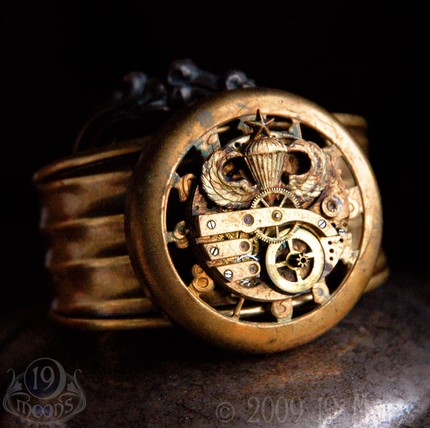 Butterfly Mechanique Watch Collage Necklace: 1930s Bulova watch movement with 15 ruby-inspired jewels set onto a vintage silver butterfly stamping with a oval link silver chain.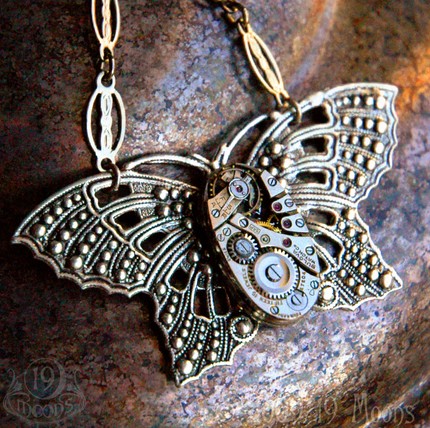 Butterfly Mechanique Brooch: An antique watch movement with 17 ruby-inspired jewels in rectangular form set onto an openwork silver-tone Butterfly with bar pin backing.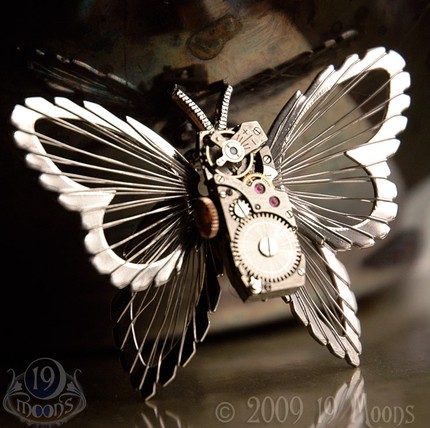 Posted on: Monday, November 16th, 2009 at 11:28 am.
Filed under: Accessories.
Follow responses: RSS 2.0.
You can: leave a response or trackback from your site.