Wendy Brandes Onyx Skull Ring
I'm on a ring kick lately.  I have a backlog of rings to share and here is just one of the awesome rings I've spotted recently.
The Wendy Brandes Onyx Skull Ring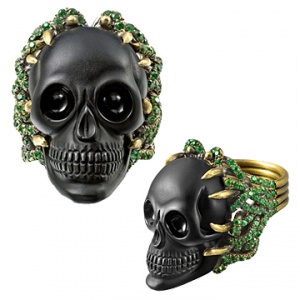 It is described as "One-of-a-kind, hand-made 18K ring with large onyx skull at center, surounded by pave tsavorites. For the ultimate in subtle luxury, diamonds are set on the inside of the ring. Price available upon request." Which translates to "if you have to ask how much, you can't afford it."
Found via notcouture.com
Posted on: Thursday, October 15th, 2009 at 9:27 pm.
Filed under: Accessories.
Follow responses: RSS 2.0.
You can: leave a response or trackback from your site.